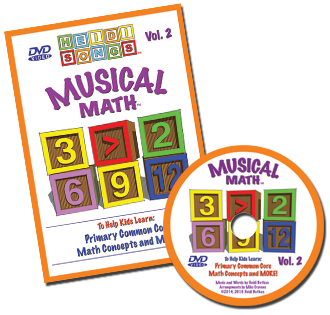 Friends, I wanted to let you know that my friend Heidi has her newest DVD ready TODAY. I've already told Heidi that I want a copy of Musical Math (Volume 2). Until it gets from California to Georgia, I'll just have to show my kids these links. We are working on place value so I'll share this tomorrow!
Here's another peek at the DVD. This song that works on counting on from ten will help your kiddos with the tricky teens.
Concepts included in the songs are:
Greater Than-Fewer Than, Subitize, Rekenrek Song, Mission Ways to Make Four, What's a Sum?, Counting On with Addition, Counting by Threes, Putting Numbers in Order, Odds & Evens, Hexagon, Trapezoid, Cylinder, Measuring with a Ruler, The Pattern of the Hundreds Chart, 12 vs. 21, Counting Backwards from 20, Telling Time is Easy, One Half-One Fourth, Counting Coins, Adding Numbers to Ten, So Many Ways to Solve a Problem, Keywords for Addition, Keywords for Subtraction, Get on the Tens' Bus!, What is Place Value?
Check it out here!